Events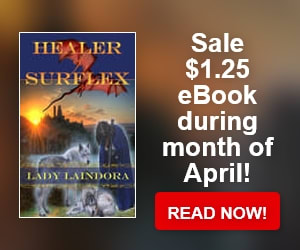 Basic Info
Clickthrough Links
Audience Targeting
Book Categories:Teen and Young Adult, Fantasy, Christian Fiction
Similar Authors in fantasy field:Bryan Davis, Donita K. Paul
Kerlia has fought to survive even before she was born because of the prophesy a child will destroy Kernel's hold over the kingdom by healing the kingdom. Kernel's minions search for the healer as his wizards strive to design the ultimate weapon. The minions almost capture Kerlia in the forest however she escapes by being transported to the fairy realm to begin her training to control her healing power. Kerlia must control her powers soon to protect those she loves. Can a mere child stand against the evil that has brought so many men to their knees
Make sure you snag this fantastic bargain before it is gone. You can find Healer of Surflex at the following links:
https://www.books2read.com/b/bWekMm
This the last of the free chapters of my novels. I appreciate all of your involvement during this promotion. You can find the complete novel of Resin La Rock at the following links: www:https://books2read.com/u/m2XWOr
CHAPTER 1
Resin La Rock glared from behind his Allis Chalmers Wd45 tractor as the scrawny little old lady swung her revolver at him. "You stupid old crone, get the off my property and out of my hair! My name is Resin La Rock. I never laid eyes on your scrawny backside before I moved to Wayne County two years ago."
Resin La Rock glared from behind his Allis Chalmers Wd45 tractor as the scrawny little old lady swung her revolver at him. "You stupid old crone, get the off my property and out of my hair! My name is Resin La Rock. I never laid eyes on your scrawny backside before I moved to Wayne County two years ago."
Resin saw her face twist into a snarl. He shook his head. He was going to have to swear out another complaint at the Sheriff's office in Columbia against Miss Sunshine Lea Defiance. This old wrinkled wisp of a woman had been a thorn in Resin's side since he made the stupid mistake of coming to this little jerk water town.
Sunshine stood on the driver seat of her Packer convertible to gain a better angle for that revolver at Resin. "Don't you be lying to me. You know exactly what I mean and I'll get the truth out of you even if I have to do it with lead. Come on admit it, you're Hank Freeman. You done me wrong thirty years ago and I'm here to make you pay for your lying, cheating, thieving ways."
Resin's ground his teeth, "You're delusional! Go back to your funny farm where you belong. I'm only twenty-six."
Resin dove behind the rear tractor tire as a bullet ripped through where he stood moments ago. A second later, the rear tire let loose with a high pitch hiss of air escaping through the gaping hole left the bullet left. The tractor twisted slightly as the tire sank, exposing the other tire to the same treatment. The radiator sputtered and gurgled, releasing its liquid in a stream as other bullets careened off different parts of the tractor.
Resin let out a stream of billingsgate with each impact trying to find him. Resin flew into action as the hammer hit the empty chamber. He rounded the tractor and made a beeline for the Packard as Sunshine fumbled with the ammo in her jean pocket. She slammed three rounds in the chamber as Resin charged. Resin launched over the car, clothes lining Sunshine across the chest. Resin landed in a crouch; Sunshine laid on her back, the air knocked out of her – but not the fight.
The revolver came up intended to put a bullet right between Resin's sea green eyes. He ripped the revolver free from her shaky fist as he flipped her over on her stomach. He kept Sunshine pinned to the ground with a knee to the small of her back. Resin slid the revolver in the back of his waistband and pulled several tie straps from his hip pocket. He twisted Sunshine's arms behind her back hog, tying her. Resin grabbed her by her waistband and threw her over his shoulder like a sack of potatoes.
Sunshine flopped like a fish out of water trying to get free as Resin walked over to his pickup and deposited Sunshine among the crates of fruit and vegetables in the bed. Her face crimsoned, "You can't do this! I'm not some animal to be taken to the slaughter. You brash mother -" Resin shoved a greasy rag in her mouth cutting off the rest of Sunshine's rant.
"Chew on that for a while. It matches your mouth. Chiamaka….Chiamaka! Come on out it's over."
Chiamaka Chinwe Chibueze, his Kenyan housekeeper came out onto the porch. The edge of her apron was crumpled in her fist. Her worried expression changed when she saw where Sunshine was. "Resin, huna kutibu mwanamke mzee kama hiyo. Mimi kufundishwa wewe bora. (Resin, you don't treat an old lady like that. I taught you better.)"
"Now don't you start in on me, Chiamaka. I didn't hurt the old hag even though I wanted to tear her head off and shove it down her throat. Follow me into town so I can get rid of this pain." He did not wait for her response. He went over and climbed into the Packard, roaring the engine to life just to aggravate Sunshine by treating her baby so roughly.
Chiamaka untied her apron and threw it on the porch chair. She went back to the kitchen door and snatched the truck keys off the hook by the door, shutting the door. Resin could hear Chiamaka's tongue click clear over to the car. He shook his head as she came over to the car, holding out the truck keys.
Chiamaka tried to talk him out of what she considered would bring only heartache for those involved in Resin's scheme. He could still hear Chiamaka's Swahili even now when he mentioned his plan to her so long ago. "She may not want the past drug up. It may be your right to know, however, it's not right to force someone to relive their past when they choose not to." Then Chiamaka started correcting him as she would a small child. Click, clack, snapped her tongue let Resin know just how unhappy she was with him.
Resin threw her a disgusting snarl before he climbed out of the car and snatched the dangling keys. He stomped over to the truck, climbed and started the truck. He slammed the truck into drive, stomping accelerator as the truck threw rocks as it peeled out of the driveway and headed for town. Resin made sure to hit every rut in the road he could find.
Resin slowed down as he approached Columbia; getting stopped by the Sheriff before he could tell his side of the story was something he wanted to avoid. He rounded the corner, almost clipping the town's worse gossip Randi House.
Resin pulled into a parking space in front of the Sheriff's office. He shut off the truck and climbed out as Chiamaka drove the Packard in the parking space next to the truck. Resin reached in and pulled Sunshine out of the truck bed, slinging her over his shoulder once more. He walked up to the driver side of the Packard, listening to the aggravated clicking tongue of Chiamaka.
"Take the food order over to the grocery store while I take care of this pain. And no, I am not ready to see her yet. Now is not the time for it." He huffed, "Please just do it without the tongue clicks, okay."
Chiamaka gave him one last loud click of the tongue before she took the keys hanging from his hand. He just shook his head and then headed for the Sheriff office. By the time he transverse the fifteen feet to the door, small crowds started to gather in the town's doorways at the spectacle of Sunshine hanging over his shoulder.
The deputy looked up from her paperwork as Resin came through the door. Resin deposited Sunshine in the chair next to the deputy's desk. The deputy jumped up pulling the rag out of Sunshine's mouth. Sunshine spat and twisted her mouth trying to rid of the nasty taste. The deputy turned to Resin, "You can't be treating Miss Defiance this way. I ought to charge you with assault."
"Before you charge me with assault I want this shriveled up old crone charged with assault with a deadly weapon." Resin's face twisted in a snarl two inches from the deputy's face.
The deputy's mouth twisted in disbelief, "You're trying to tell me she assaulted you? I don't believe it."
Resin pulled the revolver out of his waistband and placed it on the desk, "Check it out for yourself. You'll find the bullets from her revolver in different parts of my Allis Chalmers. She has caused over five thousand dollars in damages to my tractor. I want her locked up this time." He poked a finger at the deputy. "I'm sick of her being able to go around harassing people without any repercussions. I want Miss Sunshine Lea Defiance also charged with violating the no-contact order I had placed on her last month. Tell the Sheriff he can find me at my farm."
Resin turned on his heels and marched out the door, slamming it shut as he left. He caught sight of Clara leaning against his pickup parked in front of her store up the street. Clara Patriot was just going to have to wait until another time to meet him. He was in no mood to open that can of worms. He quickly ducked around the side of the police station and headed back toward the farm.
Resin crossed over the bike trail bridge into the cemetery, stopping in the middle of the graveyard by a granite monument. He stared down at the name on the stone: It all started with you.
"Hiya Resin. What ya doing traipsing around the cemetery this time of the day?"
A smile spread across Resin's face as he glanced around, locating Porsche sitting in the crotch of the tree several rows over from him. He sauntered over to the tree. "I'm just walking off some tension on my way back to the farm."
"I know a much more delicious way to relieve tension than walking." Porsche caressed his chest with her toe. "A sampling of my chocolate mellows any tension a man might have." She slid down into his embrace.
Sweet jasmine musk fueled the hunger building up in his soul for the bountiful body gliding across his body like a well-fitted glove. He drank in some nectar from her plump lips and allowed her to nibble his lower lip before releasing her from his embrace.
"Oh, you don't make it easy to say no to you, Porsche."
She pulled him back into the embrace, gliding her luscious lips across the base of his neck and sending shutters of desire throughout his body. "No one said you have to say no."
Resin hooked her chin with the crook of his finger and raised her face to meet his. He sampled the nectar one last time. "Although your invitation is incredible, I'm going to have to decline."
Porsche pulled away, crossing her arms. "What's wrong with my invitation? You sure seem to enjoy the view of my summer night dances at the parties on the banks of the Beaver River."
"Uhmm…. It's not that I wouldn't enjoy sampling your chocolate till my brain exploded. However, you are such a special lady that you deserve more than just a sample, and right now, I am not at a point in my life where I can give you what you truly deserve in a relationship. Besides, I believe there is someone on your mind that fits that slot a lot better than me."
A small twisted smile crossed her lips, "Now what would make you think such a thing?"
Resin gave her a hug at the shoulder, "I've seen you watching him when he wasn't aware you were there. You lick your lips as you would a double dipped death by chocolate ice cream cone."
Her laughter tinkled across the cemetery, "Okay, you win this round. But the next time you go night fishing, remember to bring your fishing rod or I will cross the Beaver River with full expectations that you're going to deliver."
Resin kissed her forehead, "Okay, I'll remember." He trotted off toward the Beaver River. The burdens on his soul lighten by their encounter.
He reached the bank and sat down, pulled off his boots and socks. He placed everything from his pockets in his boot before climbing down the bank to the water's edge. Resin drew a deep breath and then waded into the drought-stricken river. It only came up to his waist, but the swift current kept the water temperature at a chilly forty degrees. It quickly squelched any desire still running through his body and mind. He climbed up the other side of the river bank and heard Porsche's laughter float across the river. He turned to see her sitting on the other side of the bank, dangling her leg over the river bank. A mischievous smile spread across her lips as she unbuttoned the top three buttons of her blouse, sliding the blouse off her shoulders to expose the chocolate richness below. She blew him a kiss along with a tinkling laugh.
Resin smiled and pretended to catch the kiss, putting it in his front jean's pocket then gave her a goodbye wave. He turned toward the farm, making his feet travel away from the delicious chocolate laughing behind him. That would be all he need to have old noisy Randi come across him sampling Porsche's chocolate. She would have it blown up to a full lustful orgy with some bestiality thrown it to make it really juicy gossip.
He climbed the fence into the meadow. The soft grass was starting to stress under the drought. Resin could feel the soft crinkle of the blades breaking under his feet. He bent down and plucked several blades, testing their flexibility. If it did not rain soon, his crops would start to suffer. The grass would not have the nutrition the cattle and sheep needed. He was already hauling water to the orchard behind Sandra's property to keep the crop of fruit plentiful and sweet. If the fruit crop went bad, it would not be only him that would suffer. Sandra's struggling bakery would collapse if she had to buy the fruit for her pastries. When he bought the acreage, Sandra offered him, he spent a small fortune to plant almost mature trees and plants in the orchard. Between the cost of starting the orchard and maintaining it so Sandra could make a go of the bakery, he had almost depleted the reserves he set aside for running the farm.
Resin needed a good crop on each of the fruit and nuts from the orchard plus the sale of livestock to replenish the rainy-day fund. He could not continue to use his two black Gypsy Vanner stallions for stud without flooding the market with their colts. He also could not afford to take them back and forth to the east coast and keep his whereabouts unknown.
The two stallions were his prize possession. They were champion Grand Gypsy Vanners. They were pure black with white manes, tails, and feathering on the legs. They were a matched set, standing sixteen and a half hands tall. Now thanks to Miss Sunshine Lea Defiance, he was going to have to use them in place of his tractor. Just the thought of doing it made Resin irritated again over the situation.
Book links:
www:https://azn.to/1u92UUj
www:https://books2read.com/u/m2XWOr
Happy New Year everyone. Here is a great way to start out the new year. A new chapter to read for your enjoyment. This time the chapter is from my fantasy 'Healer of Surflex'. The novel is full of magic, fairies, knights, demons, wizards, dragons and talking animals. You can find the complete novel at the following links:
https://www.books2read.com/u/bWekMm
https://www.acx.com/titleview/A10U52CZ0IIOMS .
CHAPTER 1
Pomelia's moans of anguish woke Terian out of a deep sleep. He groggily rose upon one elbow and searched for his wife in the dim shadows of their thatched cottage. She moaned again, and he focused in on her huddled form at the edge of the hearth. The embers of last night's fire gave a faint glow as it bathed her creamy complexion in a pale red hue.
He rose swiftly, spanning the space between them and crouched beside her. Terian caressed her face and brushed back the satiny black curly hair. Her light brown eyes filled to the brim with tears.
"Pomelia what's wrong?"
"It's not fair! We're kind, gentle, loving people, not like the miller or the innkeeper. They charge unfair prices, stealing from those of the idle minded and still God blessed them with children. God, what have we done to deserve this punishment?" She lifted her hands soaked with blood.
The metallic scent of blood mingled with the smoking ash of the fire as it filtered through his nostrils, exploding in the recesses of his brain.
Terian's heart caved in, Pomelia had miscarried again. He gently picked her up and cradled her against his rock hard chest. Terian went over to the bed and sat her on the edge, removing her soiled gown and used it to wipe off most of the blood from her body.
He remorsefully returned to the hearth, lovingly shrouding the tiny form in the bloody gown to hide their son from his wife's view. Tears crept down the leathery cheeks as he covered the perfectly formed face.
Terian laid the tiny body by the basin then poured cool water from the large pitcher in the basin. He gathered clean cloths taking the basin back to the bed and sat it on the floor in front of Pomelia.
Terian searched Pomelia's eyes for any evidence of life behind them. She moaned softly at Terian's gentle touch in spite of his rough, callous hands as he methodically bathed her and cleansed her body with prayer and water. As Terian dressed her in a clean woolen gown, she was unable to even lift her arms. He laid her against the down tick pillows then covered her with their heavy quilt to guard her from the chill of the night.
Terian picked up the basin and left through the back door to go the well at his blacksmith shop. There he disposed of the basin's content and cleaned it before he returned to the cottage. He returned the basin to the stand.
Pomelia no longer moaned. Sounds of light breath in sleep wafted from their bed. Terian prayed, Thank you Lord for sending sleep to Pomelia. That is the best thing for her so she won't dwell on our devastating loss. Forgive her blasphemy, for it was her grief wailing, not her faith in You. Please give me the strength to endure the mourning period and Pomelia's sharp tongue as she again deals with the loss of another child. She is, as she stated, a kind and gentle soul. Find it in Your heart to grant her heart's desire of a strong, healthy child.
He cradled his shrouded son, and left quietly to make sure the door did not creak to wake Pomelia from her rest. The dogs were not even awake to snap at his heels as he trudged up the winding cobblestone lane toward the main street past the still darkened cottages of his neighbors. Every step Terian took oppressed his soul. Grief racked his massive frame with this fifth loss. Doubt penetrated his heart that God would bless them with an heir. It seemed the prophecy of the local soothsayer would hold true.
Terian forbade Pomelia from seeking advice from the old crone after her first miscarriage. Pomelia, however, secretly visited her while he was away at the castle at Congor's request to discuss the new designs for the battle armor for the king's warriors. Congor was the king's man of arms and chief counselor.
Terian returned to find Pomelia had given the old soothsayer a month's worth of wages for a mixture of foul, musky herbs that were to be made into a drink and drank before each session of intimacy as they chanted to a small gross ebony carving of a fertility deity.
Terian's rage exploded and for the first time in his life, he wanted to raise his hand to another human. He snatched the herbs and carving and heaved them into the flames of his forge. Pomelia ran wailing into the cottage. He pumped the bellows to engorge the flames and eradicated the abominations out of existence. He turned his frustration to his hammer and anvil. Terian shaped a pile of metal into various sizes of breastplates. The anvil's clang echoed off the walls of the village cottages.
Several hours later, the shuffled tap of the soothsayer's steps and cane interrupted him. She stood in the doorway, weaving heavily against the twisted knarred cane.
"Be gone, hag! There is no welcome at my hearth for you or your abominable deities. Leave my wife and me in peace before I dispatch you in my forge, as I did your graven image and poison." The warning rumbled through the rafters of the shop and stable, causing the nesting doves to take reckless flight in fear.
She cackled with delight over Terian's raging frustration. She crooned and leaned against her cane as she pointed a gnarled finger at him, "I'm not frightened of your ravings against me as one of the pathetic doves roosting in your rafters. Your wife came to me, begging me for my help, since your god wasn't strong enough to hold a child within her womb full term to deliver a healthy son. I warned her if you had an inkling that she was going to be using my help, your pride in your worthless god would compel you to destroy her plans, dashing her desires for a son.
"You've done exactly as I foretold. Because of your blasphemy against Kernel, Pomelia will continue to try, but will never give you a live heir until Kernel claims her also, leaving you wallowing in your pride for your pitiful, minute god for the rest of your miserable life."
Terian could stand no more of her threats. He hurled his hammer at the old crone's balding scraps of hair, "Leave Pomelia alone. My God is greater than anything you can carve, witch."
She disappeared, cackling, "We will see blacksmith, we will see."
The hammer embedded itself in the massive oak door frame.
Terian's mind swirled in self-doubt mixed with guilt that indeed these tragedies could have been diverted if he had cooperated with Pomelia's plan, instead of relying on his faith in God. They could have five healthy sons if he had chosen differently.
The soothsayer's cackle echoed throughout his soul, mocked his faith with 'We'll see blacksmith, we'll see!' With every step he took, it tried to divert him from his destiny. Soon every muscle in his body strained against his will, wanting Terian to stop, turn aside to the gnarled, vine covered trail that lead to the soothsayer's tumbled down hovel, and beg her to lift her curse.
Still he stayed true to the course as it led Terian humbly through the village past cottage after cottage filled with slumbering children. He arrived at the ornate iron gate he designed with love. Terian lifted the heavy latch and pushed the gate inward. The gate groaned and shattered the stillness of the night. It woke the rectory guard dog. It bayed loudly at his approach.
A chorus of howls joined the guard dog's baying seconds later. A light blinked on in the rectory window as the pastor groggily met Terian at the door. He held his lamp high in front of him to see who was at the rectory this late at night. The beam of light barely radiated through the darkness and revealed a hazy, gigantic form moving among the tombstones toward the rectory.
"Quiet whelp, before you wake the whole village with your baying. I'm awake. Who's there? Terian, Terian is that you?" The pastor called out and peered in the darkness. "Terian, why have you come at such an ungodly hour? What are you carrying?"
Terian's heavy shuffled steps mingled with the baying hound. It sent an eerie chill running through the pastor's soul. Terian came into view cradling the bloody shrouded parcel tightly against his chest. Blood coated his chest and forearms. Terian kissed the cradled shroud. He held it out to the pastor, his chocolate brown eyes swollen under his knitted brow. Strands of silver glittered among the mass of ebony hair that four years ago had none. Terian's tawny skin now held a sallow glow. Tears streamed down his cheeks unchecked.
His voice rumbled full of sorrow, "Pomelia miscarried another son. I need you to prepare my son for burial, as Pomelia is incapable to perform the necessary cleaning ceremony. I'll be in the chapel."
The pastor quaked as he reached out and took the shrouded infant from the grieving father. He passed it to his wife with the lantern, who arrived behind him for the needed ceremony. "Yes, yes go ahead Terian. I'll dress and go to Pomelia. She needs to be cleansed, then I'll be back to prepare your son." He reassured Terian as he shooed Terian through the rectory to the chapel.
"No, there is no need to bother Pomelia. She is resting."
The pastor drew back at the rebuff, "Terian, you know the cleansing ritual must be performed within an hour of the birth to ensure the mother's health."
An iron grip slammed around the pastor's forearm and painfully halted his progress. "I said, leave her be. Do you think I am incapable of performing the cleansing ritual correctly after four previous miscarriages? She is fine. Sleep is what she requires now. It is our son's body that needs attention."
The pastor winched in pain, "Terian, my arm, you're crushing my arm!"
Terian immediately released his grip and muttered his apologies. "Sorry, just let her sleep, please," then went into the chapel. He moved slowly up the aisle to the altar. He lit two candles. He knelt deep in prayer. The pastor closed the door and left Terian in privacy to wrestle with his sorrow.
Moans of anguish escaped Terian's trembling lips. Tears streamed along the crevasses of the sun-stained face. They soaked his chest and left trails through the caked blood. It pooled on the floor around his knees. His mind could only scream repeatedly, "Why, God?" His body was racked in grief at failing his wife once more, enforcing her fears of the soothsayer's prophecy.
Streams of light filtered through the altar's stained glass window. It cast a rainbow of color across the crumpled man. It grew in intensity, bathing Terian in its warmth.
"Terian," a soft unseen voice shattered the silence, "Terian, rise."
Terian slowly lifted his head. His swollen, bloodshot eyes dimly focused on the blurry shape behind the altar in front of the stained glass window. "Leave me in peace. I need solitude, not company."
"Terian, rise, and hear the Words of God, for He has heard and felt your sorrow."
Terian wiped his eyes with the back of his hand to clear the tears from his eyes. Terian tried to identify the intruder of his solitude. His eyes concentrated enough to view a tall, well-formed man, clothed in iridescent robes. The man lifted up his hand for Terian to obey him.
Terian shook his head, "I beg of you, leave me in peace."
A brilliant light burst forth from the man and caused Terian to shield his eyes from the blinding light, "Terian, rise, for God has granted you His mercy. I am Moryx, messenger of God." his voice reverberated throughout every molecule of Terian.
Terian raised his massive frame. It quaked in fear then he collapsed in a heap, "Forgive me Lord, for I'm but an unschooled oaf in the midst of grievous sorrow."
Moryx unfurled a magnificent set of wings and arched them high over his chiseled bronze features, "Do not bow before me, for I am not God. Rise, Terian and view God's glory through me."
Terian rose, shielded his eyes, his legs quivered, barely able to hold him erect. "Who am I that God has felt my sorrow, and has mercy upon me?"
"You are who you are, no more, no less. God has chosen you to bear His healer to aid in the war against the evil ravaging Surflex. She will aid God's warrior to free your kingdom from the evil grip that is tightening its coils around the kingdom's soul."
"A daughter, God will bless me with a daughter? Forgive me; but wouldn't a son be a better candidate for a warrior of God? A daughter may not be strong enough to carry out God's plan for freedom."
Moryx's wings spread out filling the space behind the altar. They blotted out everything else. "God has chosen His champion already to fight the battle with evil. Your daughter must heal the sorrow caused from the ensuing battle. To allow her to reach her full potential there is much preparation. There will be no other midwife but you to bring her into the world. You will wear calfskin gloves at all times in dealing with your daughter. She is not to be touched without gloved hands. Her mother or a wet nurse will not nurse her, for she will be unable to control the healing powers until she reaches maturity. It would drain her life force during the healing.
"You shall teach your daughter how to be genial and merciful. You shall show her how to love those who despise her, those who fear and envy her power. Keep her secret well, even from Pomelia, for even her mother will try to use her power for her own selfish desires."
Terian fell to his knees, his hands clasped together and begged for leniency, "Please don't condemn my child to a life without contact with another living soul. Every living thing craves contact with others. She couldn't live without being able to feel another's embrace."
Moryx's stern angelic features softened, "God knows of her need for contact and is not unfeeling. She may touch any animal bare handed, no matter the species. They will have no fear of her and will serve her slightest wish even unto death. Go now, for Pomelia is now awakened and the time of your son's burial is at hand."
Terian rose as Moryx vanished. He left the chapel and made his way home to collect his wife for their son's burial. A large strip of silver hair hanging down in Terain's eyes glistened in the dawn's rose-colored light, a constant reminder to Terian of his conversation with Moryx.
Once again here are the links for 'Healer of Surflex' you can find it in eBook print and Audio format. :
https://www.books2read.com/u/bWekMm
Next on the free chapter list is the first chapter of my thriller Window Pane. You can find the whole novel at the following links:
https://www.books2read.com/u/mK9BBZ and https://www.amzn.to/1u92UUj
CHAPTER 1
The rain streaked the window pane against the pitch black night. Thunder rumbled far away; it echoed the emptiness she felt within her soul. Where was she? Why did they leave her here? She stared at the image reflected in the window. Who was this strange woman staring back at her? She had no recollection of how she got here, who brought her here or why. The image distorted in the waves of rain running down the window.
The harder she tried to understand what was going on the more frustration swelledwithin her soul. How could the old crone's reflection in the window be her? She raised her fist to smash the image and stopped in horror. The fist was age speckled and the skin hung loose on the bony fingers. She twirled around to flee this horrible nightmare but her body creaked and groaned in protest. Nothing she saw was familiar. The furniture in the small room was pleasant enough, but held no comfort. The walls were painted in pale beige. The pictures on the walls beckoned to her, yet the people were not identifiable. Where were the matching pair of wingbackchairs she cuddled up in under the soft quilt watching the flames flicker in the fireplace?
She hobbled to the door. Hospital stench bombarded her senses as she pulled the heavy door open. The lights were very dim in the narrow hallway, making it nearly impossible for her to see where she was going. She held her shaky hand out in front of her as she shuffled her feet to keep her footsteps as quiet as she could. If only she could get out of wherever this was, maybe she could findher way home.
She passed door after door, hearing low moans along with whiffs of obnoxious odors coming from behind the doors. She finally reached the end of the hall. It emptied out into a larger corridor that had seven other hallways branching off just like the one where she stood. In the middle of the corridor was a central desk. The only light in the corridor was a dim light from a computer screen sitting on the desk. On the other side of the desk above a double set of doors blinked a neon red exit sign.
She crept towards the doors. The exit sign beckoned to her to hurry as there was not much time for her to escape to freedom. The nearer she came the harder it was to breathe. Her heartbeat started pounding in her ears. Her legs were trembling by the time she arrived at the door. She leaned against the door, closing her eyes. The cool wood felt good to her feverish cheek. She drew a breath deep as she could muster before she tried to stand straight. Tiny shards of colored lights danced in front of her eyes as she grabbed the lever door handle. She shoved it down with all her weight.
She heard a click as the door latch came free. A second later, a loud alarm sounded. She pushed the door as hard as she could, trying to squeeze by the heavy door. Rain splashed against her face as she wedged her body in the small opening.
Heavy footsteps rumbled above the sound of the rain as she felt the door move outward. Just as she freed herself, a firm gentle hand caught her by the arm and pulled her back.
"Hey, what do you think you are doing trying to go out in this rain storm?" The large orderly swept her up in his arms and pulled the door shut. He set her in the wheelchair that was by the desk, and then reached over the desk, shutting off the alarm. He knelt by the chair, placed his mammoth hand over the fragile shoulder. "You know I cannot allow you out this late at night in the midst of a downpour. Let's get you back in your room and in dry clothes. I may even be able to find a little bit of cocoa to warm you from the chill." His eyes sparkled with kindness as he gently lifted her feet up on the wheelchair foot rest.
The wheelchair squeaked as the small front wheels wobbled severely. He had a hard time keeping the chair going in a straight line. "Looks like I'm going to have to get the oil can out again." He gave a sigh as he bumped the door to her room open with his foot and backed into the room. He wheeled her over by the bed then went and got a towel, draping it over her shoulders. He then got a gown out of the dresser, laying it on the bed. "Here is a nice warm gown for you to change into while I finish making my rounds, then I will get you a cup of cocoa." He lifted her out of the wheel chair and sat her on the bed.
He folded the wheelchair as he gave her a warm smile, then he was gone. She looked down at the gown and then over at the rain streaked window. Even though he was nice, she did not want their cocoa. It always had a bitter after taste. It made her groggy and she could not think straight for hours afterwards. She changed and threw the wet gown in the hamper.
The door across the room opened, admitting a tall, elegant, mature man carrying a covered tray. He smiled at her as he set the tray on the small table. "Figured the storm would wake you, here, sit down. I made you a nice cup of French vanilla mocha cocoa. I even swiped extra marshmallows for us." He gently guided her to the chaise before sitting beside her, removing the cover, revealing an array of delicious petit fours with two steaming mugs of cocoa. "Thunder always upset you."
She kept an eye on his every movement as he prepared the mug of cocoa with marshmallows for her. His mannerisms and twinkling gray eyes gave her a small comfort in this sterile environment. The gray hair over his ears added to his charm as the laugh lines crinkled at the edges of his eyes.
He held out the mug toward her. The delicious aroma won her over and she carefully took it wrapping her thin fingers around the mug. Its warmth spread through her fingers up her slender wrists traveling to her heart. There, it slowly wiped away the hollowness and filled her with hope. She watched as he sat back and sipped his cocoa and popped a petit four in his mouth. He closed his eyes as he chewed. A satisfied grin spread across his face.
She sat there, sipping from the mug, as she kept a cautious eye on the man's movements. There was something strange about how he knew she would like this cocoa. It was as if he could reach into her mind and pull out things prohibited to her. She wanted to throw the mug against the wall and scream questions at him.
He sat up and handed her a petit four before snatching several more and popped them into his cheeks. He looked like a chipmunk gathering nuts for the winter. He turned and tried to smile at her. The chocolate covered teeth and crooked grin broke down her resistance and she gave a small giggle.
He washed the petit four down before joining her in the giggle. "I love to hear you laugh. It lightens your soul and heart when you do."
She sat the cup and petit four down. "Do I know you? I cannot remember anything any more. I do not know where I am or how I got here. Please help me." A tear gathered in the corner of her eye.
He set the cup down and reached into his pocket withdrawing a large embroidered monogrammed handkerchief and dried the tear. He handed her the handkerchief as he gently pulled her to her feet and into his embrace. There she felt comfort, peace, and fulfillment.
He caressed her hair as he leaned his chin on the top of her head.
https://www.books2read.com/u/mK9BBZ